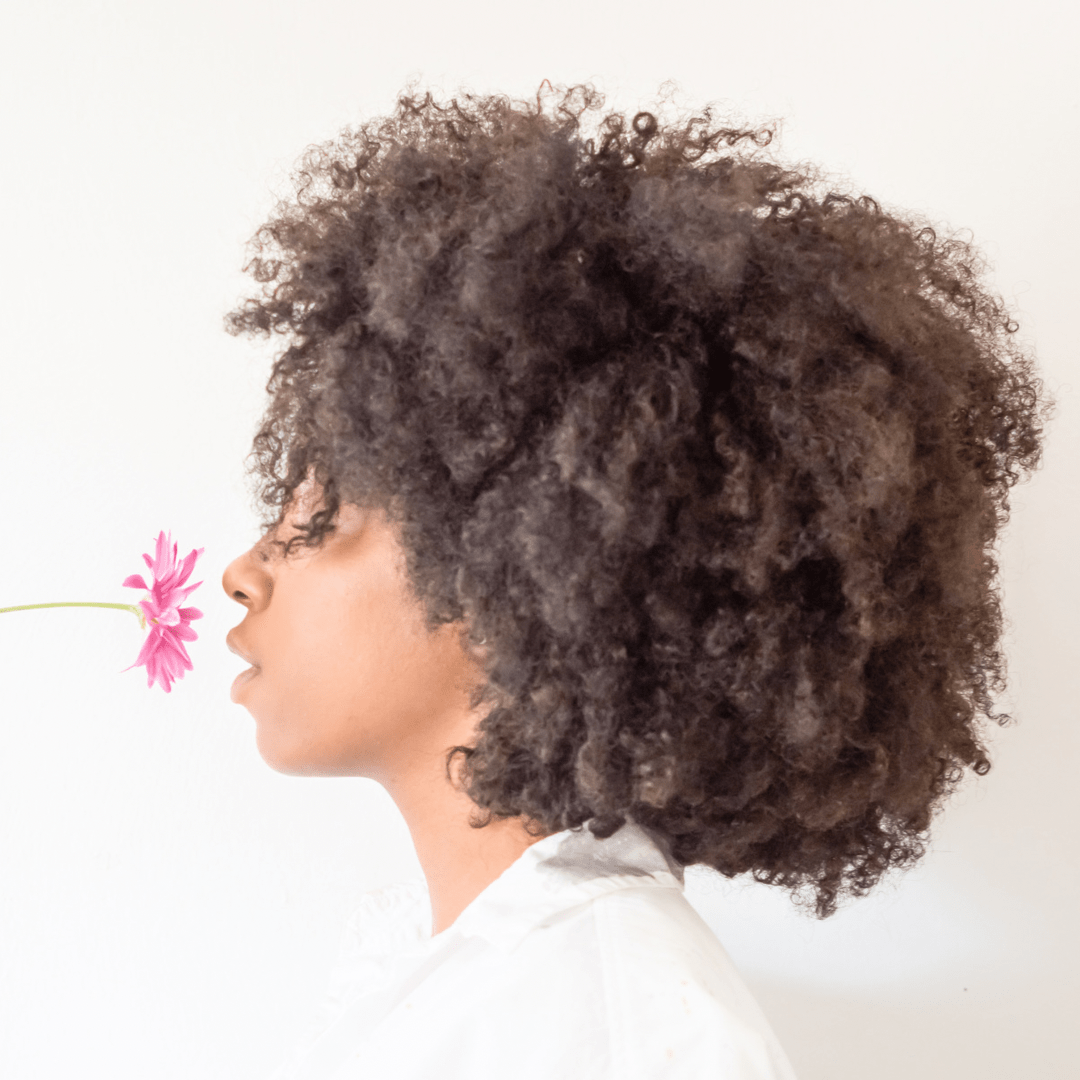 Misconceptions About The Use of Oils On Textured Hair
The misconception about the use of oils on textured hair is that it adds moisture and shine to the hair.  Contrary to popular belief using oils or heavily oil based products such as butters alone, do not work for those with curly hair type, especially kinky curly, coils hair type. Oils are lubricants and using them alone do not add, nor increase moisture to your hair.  There are many ways one can add natural shine and moisture to the hair without the use of any oils. Using water based products with moisture booster ingredients can serve a better purpose at adding, retaining and balancing your hair's moisture throughout the week.  
Shine is a correlation of the hair surface texture that naturally reflects light thus giving you hair a shiny appearance.  As was stated by a hair care specialist "Some people have a shiny one, some have a dull one, and some people have both.  No matter what some people use, if they have a shiny surface their hair is going to shine, and if they have a dull surface texture it isn't going to reflect the light.  Thus, the misconceptions about the use oils on textured hair to increase moisture is false, because shine is not an indication that your hair is moisturized or hydrated.  
Oils are good at sealing moisture, when paired with a water based product, applying post a leave-in conditioner or after a styling cream. Or simply after shampooing and conditioning the hair while it is still wet. Oil treatments are even great when used as a pre-shampoo conditioner. However, this too is not necessary if you use a well formulated shampoo that won't strip your hair of its natural oils. 
Using the right product for your hair type is key when it comes to your hair care routines.  Not only does it minimize the time you spend on your hair, you'll also find the need to keep adding products to your hair throughout the week decreases.  Simplicity is key for us when it comes to formulating our products and care for your hair and skin.  The products contain a multitude of ingredients that work in synergy to decrease your need of layering multiple products. Our products are well balanced and are multitasking, caring for your hair the minimalist way but with effective results.
You may find that a product that is working perfectly for someone with naturally straight hair works as great for someone with kinky curly or coily hair. The reason for this isn't hair type but  that you may share the same type of hair porosity and even texture.  Different oils are best suited for each hair porosity type.  When it comes to finding the right hair maintenance products (cleansers, hair masks, leave-in, hair moisturizer) knowing your hair porosity is a good factor.  Therefore hair type is not always a helpful guide to finding the right products for your hair care routine. However when it comes to styling or curl defining products, in addition to hair porosity, curl type then does matter. The same case when it comes to using oils on your hair.
Your hair porosity, then texture will determine what type of oils are good or best suited for your hair. Additionally, knowing how they must be used is of importance in order to obtain the maximum benefits and desired effects. The effect of which is to retain moisture and a smooth finish. Oils are always to be applied on the hair with a water base component or water itself, as oil alone is not a moisturizer but a moisturizer aid. And even then, it is to be used sparingly.
Tips on using oils and heavily oil based products (butters) on your hair.
Use oils that are best suited for your hair porosity.

Use oils as a pre-shampoo conditioning treatment

Use oils post your leaving-in conditioner after cleansing your hair if needed (few drops)

Use oils as a finishing product on hair at a very small amount focusing on the ends.

Routinely cleanse or shampoo your hair using a clarifying or purifying shampoo to prevent product buildup. 
Top 5 Best Oils for Low Porosity Hair
Low porosity hair usually favors light oils such as;
Argan oil

(Argania spinosa)

has great antioxidants and vitamin E. It helps to control frizz, reduces hair breakage and split ends by increasing the hair's moisturize balance. 

Grapeseed oil (

Vitis vinifera)

is very rich in fatty acids, of which is highly conditioning to the hair and scalp. It easily penetrates into hair cuticles, helping to reduce water loss by locking in moisture.

Baobab oil

(Adansonia digitate)

, also rich in fatty, with oleic and linoleic acids being the major ones. It helps in strengthening brittle hair by repairing hair damages, especially due to moisture loss.

Jojoba oil

(Simmondsia chinensisis)

is rich in minerals and vitamins including vitamin C, B vitamins, vitamin E, copper, and zinc. This makes it great nourishing and strengthening the hair thus preventing hair loss resulting in thicker hair.  It is also great for dry scalp and dandruff.

Safflower seed oil

(Carthamus tinctorius)

oil is also rich in fatty acid and vitamin E. It has anti-inflammatory properties thus may help with scalp issues and assists with hair loss.
Top 5 Best Oils for Medium Porosity Hair
Any of the oils that work for low porosity and some of the oils for high porosity hair will also work for medium porosity hair. You will have to play with oils on both categories to see what works best for you. However there are some that works like a 'lock & key' for medium porosity hair, such as:
Macadamia Nut

(Macadamia integrifolia)

oil is rich in fatty acids and potassium. It also contains antioxidants, which can help hair to recover from environmental stressors. It smooths and adds shine to hair when properly applied. Macadamia oil also penetrates hair efficiently to seal in moisture. 

Soybean oil's

(

Glycine max

) high protein content helps in hydrating and conditioning of hair by deeply penetrating the roots of the hair.  Soybean oil has also been complimented as a great oil in the treatments of dry scalp and split ends. It is also considered to be a great scalp stimulator by increasing hair growth quickly.

Moringa seed oil (

Moringa oleifera)

is also high in protein and oleic acid. Moringa is a great emollient acting as a barrier to help seal in moisture and restore moisture level to the scalp. It is said that it helps protect color-treated hair, enhance shine, and protect against damaging effects of sun rays. 

Avocado Fruit oil (

Persea americana)

is very rich in oleic acid and monounsaturated fats, making it very penetrable to the hair shaft, to moisturize and seal in moisture. Additionally, it is rich in minerals, vitamins and biotin making it a fortifying oil for hair. It helps to smooth hair cuticles, tame frizz, promote hair growth and shine.

Jojoba oil

(Simmondsia chinensisis)

as stated above is rich in vitamins and minerals that nourish hair, including vitamin C, B vitamins, vitamin E, copper, and zinc. It is a versityle oil, thus making it great for all hair porosity.
Top 5 Best Oils for High Porosity Hair
Hair porosity hair favors heavier oils, as they are highly lubricant and helps seal in moisture in hair post conditioning and or styling products. 
Coconut oil

(Cocos nucifera)

is a

lso

an extremely versatile health and beauty ingredient. It is great at protecting the hair against environmental and mechanical stressors. Being a triglyceride of lauric acid (it's principal fatty acid), it has a high affinity for hair proteins and is able to easily penetrate the hair shaft.Thus making it great at reducing the hair's protein loss. 
Olive oil's

(Olea europaea)

primary chemical constituents are oleic acid, palmitic acid, and squalene. All of which are emollients having softening effects on the hair. It also has the possibility of strengthening the hair by penetrating the hair shaft and preserving moisture.
Castor bean oil

(

Ricinus communis

), is rich in ricinoleic acid; a type of fatty acid found to be helping in fighting inflammation. Due to this property, it may be helpful in treating problematic scalp, such dry scalp, and ease dandruff. These help enhance the health of the scalp, hair follicles and ultimately increase hair growth.

Shea Nut oil

(Butyrospermum Parkii)

or butter has high content of oleic, stearic acids, Vitamin A and Vitamin E.  It is effective at conditioning the scalp, defines curls in product formulas, seals in moisture, decreases frizz and dandruff.

Jojoba oil

(Simmondsia chinensisis)

as stated above is rich in vitamins and minerals that nourish hair, including vitamin C, B vitamins, vitamin E, copper, and zinc. It is a versityle oil, thus making it great for all hair porosity.
The bottom line is; never use oil or heavily oil based products directly on your hair without the use of a water base product prior.  Use very sparingly on top of your leave-in conditioners focusing on your ends after thoroughly cleanse or shampoo your hair to avoid product build-up.  The use of oils on hair and scalp if not properly cleaned periodically will result in negative effects and may stunt hair growth. Using oils as a pre-shampoo treatment is also ideal in helping to increase shine, hair smoothness and hair moisture balance. 
The use of oils on curly and kinky curly hair redefined!
Suggested Products To Boost & Balance Hair Moisture and Shine
References For This Information 
Does Argan Oil Help Protect Against Hair Loss?

Medically reviewed by Cynthia Cobb, DNP, APRN — Written by Adrienne Santos-Longhurst on February 22, 2019

https://www.healthline.com/health/argan-oil-for-hair-growth#overview

The health and beauty benefits of grapeseed oil.

Medically reviewed by Peggy Pletcher, M.S., R.D., L.D., CDE — Written by Mariah Adcox on July 12, 2017.

https://www.medicalnewstoday.com/articles/318395

Beauty in Baobab: a pilot study of the safety and efficacy of Adansonia digitata seed oil.

Revista Brasileira de Farmacognosia Volume 27, Issue 1, January–February 2017, Pages 1-8.

https://www.sciencedirect.com/science/article/pii/S0102695X16300874

Jojoba Oil for Hair: How It Works

. Medically reviewed by Cynthia Cobb, DNP, APRN — Written by Adrian White — Updated on September 29, 2018.

https://www.healthline.com/health/jojoba-oil-for-hair#research

Effect of mineral oil, sunflower oil, and coconut oil on prevention of hair damage

. Aarti S Rele et al. J Cosmet Sci. Mar-Apr 2003.

https://pubmed.ncbi.nlm.nih.gov/12715094/

Investigation of penetration abilities of various oils into human hair fibers

. K Keis et al. J Cosmet Sci. Sep-Oct 2005.

https://pubmed.ncbi.nlm.nih.gov/16258695/

How to Use Olive Oil for Hair Care

. 

Medically reviewed by Gerhard Whitworth, RN — Written by Elea Carey — Updated on February 26, 2019.

https://www.healthline.com/health/beauty-skin-care/olive-oil-hair-care

Using Castor Oil for Hair Growth

. By Cathy Wong. Medically reviewed by Rochelle Collins, DO Updated on November 21, 2019.

https://www.verywellhealth.com/using-castor-oil-for-hair-growth-4172190

Shea nut oil facts and benefits

.

https://www.healthbenefitstimes.com/shea-nut-oil/

Macadamia Nut Oil for Hair

. Medically reviewed by Debra Rose Wilson, PhD, MSN, RN, IBCLC, AHN-BC, CHT — Written by Kathryn Watson — Updated on March 7, 2019.

https://www.healthline.com/health/macadamia-oil-for-hair

Soybean For Hair Growth: Benefits, Uses, and Risks You Should Know

.

https://www.beautyglimpse.com/soybean-hair-growth-benefits-must-know/

Moringa Oil Is the Secret Ingredient You Should Be Using for Your Skin and Hair.

https://www.google.com/amp/s/www.health.com/beauty/moringa-oil%3famp=true

What Are the Benefits of Using Avocado Oil on Hair?

  Medically reviewed by Debra Rose Wilson, PhD, MSN, RN, IBCLC, AHN-BC, CHT — Written by Annamarya Scaccia — Updated on May 9, 2017.

https://www.healthline.com/health/beauty-skin-care/avocado-oil-for-hair