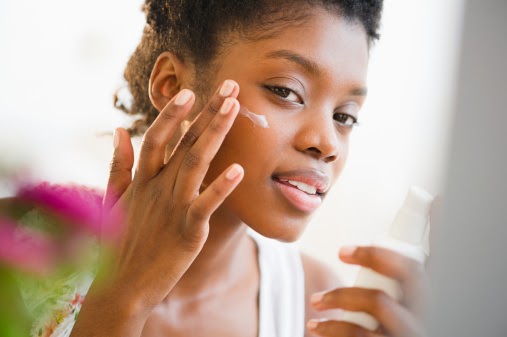 Balance your skin's moisture with another great Shea based product. Last time I touched based on Shea butter's benefits for the hair. This time I will touch on it's benefits for the skin with other ingredients that bring the product together as added benefits.
High levels of fatty acids and vitamins make Shea butter an ideal cosmetic ingredient for softening, condition, tone, and soothe your skin. (1,3). And as I mentioned previously, with great anti-inflammatory and healing properties. Shea butter is believed to have anti-aging properties as has been reported, thus the exact mechanism isn't known (1,2). However, it is believed to be having this effect by promoting collagen production or decreasing the breakdown of collagen already present (1). Shea butter is also helpful in soothing muscle ache, rheumatism & arthritis (4).
Some of the main components of Shea butter include oleic acid, stearic acid, linoleic acid (2, 3). It is rich in fats and gets absorbed quickly into the skin as it melts at body temperature. These characteristics make Shea butter an attractive main ingredient in a variety of cosmetics and medicinal formulas as it is an excellent emollient and skin moisturizing agent. Additionally Shea butter has been shown to have some SPF (skin protectant factor) due to its vitamins A & E (3, 4). Shea butter can easily be incorporated into DIY (do it yourself) products. Although, when formulated in combination with other botanical ingredients it can result in a synergistically powerful healing product for the skin & scalp.
These aforementioned characteristics of Shea butter, makes it especially great for incorporation in face moisturizers, especially be it that the face is the most exposed to the damaging effects of the environment. The face gets the most abused thus makes it the part of our body that needs the most attention and tender loving care. At the same time, it gets the most ignored by many…. I'm guilty of that. However caring for the skin, especially the face does not have to be a chore or tedious. As always when the right products are used, even just one product it can be done with ease. You won't even have to remember nor forget to care for your face, it becomes second nature. Just like when you drive to work back and forth everyday… sometimes you don't even remember driving you are just home or at work (not that you don't really remember), but you know what I mean.
Only high quality Shea Butter can offer the health benefits mentioned above. All the components or constituents in Shea butter work in synergy. Once Shea butter is aged or loses its natural integrity, many of these benefits are also lost, as one component that was dependent on another may have been lost or degraded. This is another reason to have the "know how" to incorporate Shea butter into your formula when making more complex products. Next I will do a quick tutorial on how to make a simple 3-5 ingredients Shea butter base cream or whipped body butter. Want something more synergistically complex? Check out our skin care Shea butter base products Below!
Resources
Shea Butter for Your Face: Benefits and Uses

.

Health Line

https://www.healthline.com/health/shea-butter-for-face

Shea Body Butter Recipes for Beginners: Unlock the True Power of Shea Butter

. Jamie Matthews

28 Best Shea Butter Benefits For Skin, Hair And Health

. Styled Crazed

https://www.stylecraze.com/articles/best-benefits-of-shea-butter-for-skin-hair-and-health/

Principles of Orthomolecularism.

R. A. S. Hemat
Shea Butter Base Facial Moisturizers
Shea Butter Base Whole Body Cream and Butters
Shea Butter Base Balms & Butter For your Achy Hands & Feet COMING SOON!